Rev. Leslie Wood moved to Colorado in February of 1984, after marrying her husband, Brian. Leslie grew up in the Presbyterian Church, USA in her hometown of Athens, TX. She was raised on her family's farm, which was homesteaded by her great-great grandfather in the late-1880s. She still owns the farm with her sister and brother, and is a country girl at heart.
Leslie received her Bachelor of Science in Business Administration, majoring in marketing, from the University of Colorado, Colorado Springs. For 20 years she was a marketing communications professional for both secular and Christian companies.
She earned her Masters of Divinity from Asbury Theological Seminary. Prior to coming to Loveland First UMC, Leslie was pastor of Pikes Peak UMC in Colorado Springs, The United Church of the San Juans in Ridgway, CO and St. Paul's UMC in Colorado Springs. Having completed her chaplaincy certification, she has worked as a chaplain at both Penrose Hospital and Pikes Peak Hospice and Palliative Care in Colorado Springs. For 5½ years she served as Director of Youth Ministries at Calvary United Methodist Church in Colorado Springs.
Leslie and Brian have two sons. Shane is an elementary school teacher in Colorado Springs. Tyler lives with his wife Christine and their children, Jackson and Aspen in Ft. Meade, Maryland, where he is stationed in the Navy. The Woods share their home with their mini-Australian Shepherd, Poncho, and their border collie, Jake. Leslie enjoys time with her family, hiking, writing, reading and travelling.
Contact Rev. Leslie Wood at: leslie@fumcloveland.com
Rev. Lee Anderson-Harris is an ordained Deacon in the United Methodist Church.  She has served as Minister of Care in UMC churches in the Denver metro, and practiced as a counselor for individuals and couples.  She received her bachelor degree from Texas A&M University, a M.A. in Counseling Psychology from the University of Colorado-Denver, and completed her seminary coursework at Iliff School of Theology.  Combining her psychotherapy background with Christian teachings, Lee seeks to walk beside people in a discipleship journey that leads to personal healing and growth as well as hope and healing for our world.  She understands caring for self and others to be a key part of the Christian faith.  Lee is married to Rev. Jeremiah Harris, and together they enjoy the Colorado outdoors and studying history. 
Contact Rev. Lee at: Lee@fumcloveland.com
Patty is a Colorado native, born and raised in Denver. She has worked in the church office since 2002. Patty is married to Steve who is a Bond Commissioner with Pre-Trial Services in Larimer County. Patty and Steve have two grown children; Josh, who lives in Fairbanks, Alaska; and Hannah Curtis who lives in Longmont, CO with her husband, Dylan. Patty loves to travel (especially to Alaska), read, go camping, visit with friends and family, and go for walks.
Contact Patty at: office@fumcloveland.com
Karen Lumpkin has lived in Loveland for 25 years and is the proud mother of three son's – Jon, Jeremy and Jameson. Karen is originally from Michigan and moved to Colorado 35 years ago. She spent most of career working for technical companies in various business capacities including Program Management at Woodward, Inc. Her favorite activities include; family time, pampering her dog Luna, tennis, hiking, line dancing, reading and gardening. She's very excited to be the FUMC Business Manager and looks forward to meeting everyone.
Contact Karen at: business@fumcloveland.com
Organist/Pianist/Music Coordinator
Kathryn was born and raised in Salina, Kansas where she grew up at the Salina FUMC. (Her mother is still an active member there at the age of 94!) She is very thankful to have landed at FUMC in Loveland where she can serve with her passion for church music. Kathryn has a bachelor's degree in piano performance from Wheaton College in IL and a master's degree in music from Kansas State University. She currently maintains a piano studio after retiring May 2019 from 20 years of teaching elementary music with the Thompson School District. She and her husband, Ron, have two adult children and a 14-year-old black Labrador/Dalmatian, Dottie. Her hobbies include working at the Colorado Cherry store on Highway 34, baking, running and Dottie.
Nicole has been part of the Northern Colorado area for most of her life. She received her degree in music education at the University of Northern Colorado, and taught at Loveland High School for almost 8 years as the choir and musical director. She is currently pursuing a Master's degree in Choral Conducting at Colorado State University, and is serving as the Choral Graduate Teaching Assistant. She is very active in the Northern Colorado choral scene including being a founding member of the NoCo Singers, a board member for CO All State Choir and Jazz Choir, and involved with the Northern Colorado Combined League Honor Choir.
She enjoys traveling all over the world, especially enjoying the outdoors. She loves trying new cuisines and considers herself an avid "foodie" as well! Her and her husband, Josh, live in Loveland, with their two dogs: Jude and Prudence. They are lovingly named after Beatles' songs!
Director of Spirit Sounds Bell Choir, Children's Choir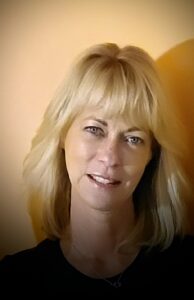 Susan Harding is the Bell Choir Director and the Children's Choir Director at FUMC of Loveland. She received her music education degree from the University of Colorado – Go Buffs! She has been teaching music in Loveland for 25 years at the elementary level. She has been the Bell Choir Director for a total of 5 years and the Children's Choir Director for 13 years. 
Some of her accomplishments include her marriage of 25 years to her husband Paul and her two beautiful daughters Kina and Samantha, 2012 Thompson Elementary Educator of the Year, SAM's Teacher of the year ( too many year's ago to remember which year:) and a member of the 1984 Olympic Marching Band.
Ryan Millard was born in Loveland, CO and has a broad professional background in musical performance and production. This ranges from musical theater productions to touring tribute and cover groups and also original singer-songwriting material of his own. 
 Ryan works in a recording studio as both an assistant recording engineer and as a session musician on guitar, bass and vocals. 
 He has also performed in various churches along the front range on guitar and vocals. 
Contact Ryan at: av@fumcloveland.com
Children's Ministries Coordinator
Shannon Heusinkveld has a long-standing connection with First United Methodist Church in Loveland. She and husband, Ryan, were married in the church and, though life has carried them around the Midwest, they have traveled back to Loveland to baptize each of their four children at FUMC, residing in the area again after their youngest was baptized in 2018. Shannon has a degree in Architecture from Kansas State University. She has much experience with children of all ages. She has been a swim instructor, camp counselor, preschool art teacher, college professor and homeschool mom. Shannon has been a member and a volunteer with Mothers of Preschoolers for 13 years. Her hobbies include reading, baking and mothering her kids, her husband and anyone that gets near her. She will offer you motherly advice, she carries any and all needed items in her purse and she will feed you a snack if you are feeling peckish. Shannon is happy to be serving as the Children's Coordinator at FUMC.
Contact Shannon at: shannonh@fumcloveland.com
Youth Ministries Coordinator
Matthew Utley was born in Loveland, CO where he lived until college. He has five sisters who live across multiple states. He attended Nebraska Wesleyan University in Lincoln, NE where he majored in  psychology and minored in Spanish. After college he moved back to Loveland and has begun classes at Iliff School of Theology where he is working on his Master's Degree in Divinity. He enjoys music and riding his bicycle. Matthew has been a part of the FUMC Loveland community since he was in preschool. As a youth Matthew was involved in the youth programs locally and across the Rocky Mountain/Mountain Sky Conference. He became the president of the conference's youth council where he worked with other youth to plan events. He has attended multiple annual conferences and one general conference. Matthew is thankful that he can continue to plan events and help cultivate the faith of young people as the FUMC's Youth Ministries Coordinator.
Contact Matthew at: youth@fumcloveland.com
Alison was born and raised in Louisiana, where her parents and family still live.  She is the middle child of 7, and has 42 nieces and nephews.  She has lived in Colorado for 8 years now.  She has worked and cared for children as a Nanny in daycare and preschool and has volunteered at school, Sunday school, and vacation bible school.  Her husband is David and have been for 20 years.  She has 3 children, 2 by birth, Bailey age 19 and Christian age 17.  She has 1 adoptive child, Gracie age 7.  She has 2 dogs, Estes and Faith.  Her family signs letters and cards like this: A,B,C,D,E,F & G.